Results
First, let's acknowledge the withdrawal of defending champion, Petra Kvitova. After her sensational run to the title last year, many expected a banner year for her. That however, was not to be, although she did make it to the 2nd week of all 4 slams, she failed to reach the finals of any slam, let alone add on to her 1 Wimbledon title. She won 2 titles on American hardcourts this year including Cincinnati, but all in all, it was a somewhat disappointing year for her. Hopefully she'll rebound next week when she plays for her country in the Fed Cup Finals.
Serena def Li 76 63
Saw the first set of this match. Serena was off rhythm and making many errors. Li was somewhat affected by this and failed to capitalise on this despite leading 4-1 in the first set. This goes to show how difficult it is to beat Serena. She just has this aura around her, that opponents feel defeated before they even step onto court. The last person to have this aura was probably Steffi Graf. Nonetheless, this win more or less assures Serena a place in the semi finals. With an enticing match with Azarenka coming, perhaps this win will take some pressure off the hot favourite.
Sharapova def Radwanska 57 75 75
I did end up jinxing Radwanska I guess. However, I'm mightily impressed by the scoreline and glad for the tournament that such an exciting match took place. This match could have gone either way and it was power vs guile. In the end, Sharapova just has too many weapons to hurt Radwanska. Sharapova is now more or less assured 1st place in her group (she faces her bitch, Stosur next) but she will likely end her run in the Semis as she faces her nemesis Serena or Victoria in that round. Good win for Maria, who got to hit lots of balls. Hopefully she can get a non-clay win over the MVPs of the season.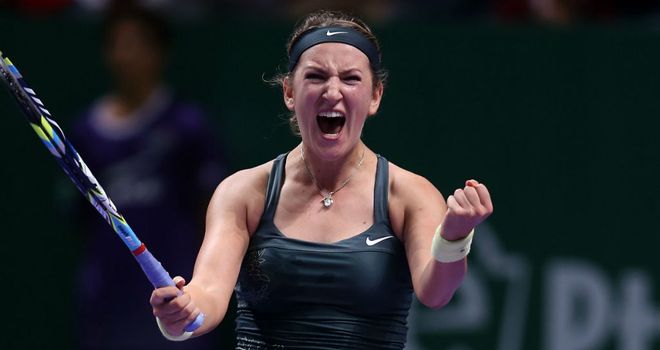 Azarenka def Kerber 67 76 64
Much closer scoreline than I expected. Kerber is obviously a very good player and a possible permanent fixture in the top 10. She just needs to ensure she doesn't fall into the same path as other counter punchers in the top 10, i.e. Wozniacki and Jankovic. Victoria grinds through another victory, coming from the brink of defeat and starts her YEC campaign. She needs to clean up if she wants to challenge Serena. Still, Vika is probably confident of reaching the finals once she gets pass the group stage as her likely Semifinal opponents are 2 players who she has owned this year.
Predictions:
Li vs Kerber
Li hopes to get past her disappointing performance against Serena with a win in the group stages to keep her semi finals hope alive. In her way is Angelique Kerber who played well against Azarenka and will also want to redeem herself. While both woman are more or less fighting for 3rd place in this 'group of death', we can expect a good match as these 2 have contrasting styles of plays. Kerber will try to counterpunch her way as Li tries to hit through her German opponent. Kerber might be tired after her long match the day before and that could well be the deciding factor of this match. Li has the fire power, but does she have the consistency and patience to wait for the right moment to strike. Another toss up, with both players coming off loses to Serena, both know that this is their chance to get a win this tournament.
Pick: Li in 3 error ridden sets.
Azarenka vs Serena
The match everyone's been waiting for. A win for Serena will guarantee her the top spot in this group. Serena is eager to prove once again that despite the ranking, she is the best player of 2012. She has graciously admitted that Azarenka has been the most consistent, but it was Serena who blazed through the 2nd half of the year and has only 1 lost to a top 10 player this year. If their US Open encounter is an indication of things to come for this rivalry, expect a fierce battle between the two. Victoria knows that she is only number 1 on paper and everyone else knows who the best player on tour is. She will be eager to prove them wrong and will likely take lots of the 'player of the year' honours if she can get a win (or two) over Serena in this event. Serena loves playing number one players and if I am correct, has one of the most wins against active number one players. Serena hasn't been playing well this tournament, her serve no where as dominant as it was during her summer hot streak. Serena however, has an uncanny champions ability to win. Win ugly if she must, but this legend hates to lose, especially to someone whom she knows she's better against and hasn't lost to since 2009. Victoria needs to strike early and hold on to any early lead she can gain as once Serena settles, it will be difficult to stop her. Victoria has to keep 1st serve percentage high and keep errors to a minimum and keep making Serena hit one more ball. Serena for her part needs to serve well and be patient and wait for the opportunity to strike. One thing for sure is that Serena will not want to lose this match and will fight tooth and nail even if she's not playing well.
Pick: Serena in 3 hard fought sets.
Stosur vs Errani
Stosur snuck in and still has a chance to qualify for the semifinals thanks to Kvitova's withdrawal. Errani beat Stosur in a shock upset at the French Open Semifinals and looks to repeat that result. Stosur's play has been erratic the entire year and if Errani can get many balls back and wait for Stosur to miss, she's in for a chance. As with most of Errani's matches against the top girls, it is her opponent who will decide the fate of the match. If Stosur is having a good day, she will blast the Italian off the court, her high kicking serve will be difficult for the diminutive Italian to return which will likely set up an easy put away. But with Stosur, nothing comes easy for her. This is Errani's best shot to prove her qualifying for the YEC was no fluke and sneak a victory past an opponent who come to Istanbul without expecting to play a match.
Pick: Stosur in 3 sets.
Enjoy the tennis. For those in Asia, Eurosports is providing full coverage with host Mary Pierce and Barbara Schett as well as commentary from a very insightful and entertaining Jo Durie.