Linz finals:
Karolina Pliskova def. Camila Giorgi 6-7(4) 6-3 7-6(4)
Camila Giorgi certainly has to rein down her ultra aggressive game, and stengthen up her mental game because she just gives away too many free points. Pliskova served well and had some goo returns, but Camila's game is just too hit or miss to really win anything significant. Giorgi came all the way from 1-5 down and wasted a match point on Pliskova's serve, showing how up and down her game is. Hopefully she will find a middle ground for her game as when she's nervous and piling up the errors, she's already putting herself at a disadvantage. With this win, Pliskova bolsters her chance of making the mini-YEC in Sofia, and with some steady results in slams, I'm sure Karolina will be a staple hold in the top 20.
Osaka finals:
Samatha Stosur def. Zarina Diyas 7-6(7) 6-3
As expected, Stosur claims her 3rd title in Osaka, defending her title from last year. Samantha always does well in this tournament, and will be looking to qualify for the mini-YEC in Sofia as well. Diyas played well for her first final, but losing the first set in such a tight manner did her in. If Zarina somehow edged out the first set, I'm sure she will be more confident of her chances. Nevertheless, it's been a stellar year for the young Kazakh, going from outside the top 100 to firmly in the top 40. I believe she can be a steady top 30 player if she keeps up her form.
Tianjin finals:
Alison Riske def. Belinda Bencic 6-3 6-4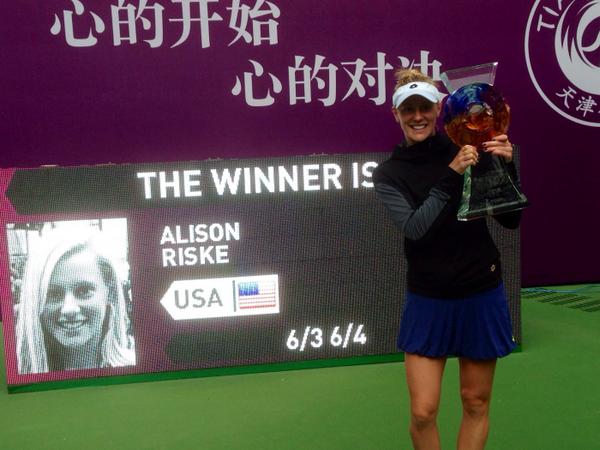 Belinda Bencic must be too nervous at the aspect of becoming the youngest winner since 2006. She was not her steady best, while Alison just had to be solid with her game. The American had an uneven season this year, but her last season form has been solid, culminating in her maiden title run. Alison's game is still a bit hit and miss for me, so it'll be interesting to see how she follows up after this triumph. As for Belinda, time is on her side, so 2015 will be an exciting year for her after her first full season.