Semi-final day came and I went to my friend's house to watch the eagerly anticipated match between Kim and Maria Sharapova. Before this match was Mary Pierce vs Elena Dementieva, where Mary took an extended medical time-out to break Elena's momentum. I was irritated, because Mary's timeout and fight back means that Kim would have a later start. And in Singapore time, it was already 1 to 2 am in the morning. Still, I was quietly confident as Kim has never lost a match to Sharapova until then.
Finally, it started. A weird match where both players were struggling to find their rhythm, Kim finally settled down faster and claimed the first set. Sharapova was absolutely misfiring and I secretly hoped that that will continue. Second set started and Maria continued her erroneous ways and Kim was leading in no time. With Mary Pierce in the final, Kim had her best chance to win her maiden slam! However, Maria started to swing more freely as she had nothing to lose. Slowly but surely, Maria crept back into the game and the set. When Kim lost the second set, I was infuriated and disappointed. I thought that Kim's a goner and stopped watching to go to sleep. My friends were shocked at my reaction but they understand. However, I couldn't sleep at all. I thought to myself, "Stupid Kim, stupid Maria, stupid grand slams!" Suddenly, my friend came up to the room and told me that Kim is winning again! "Don't lie!" was my immediate response. True enough, when I saw the television screen again, Kim was 2 games away from the match. Maria staged a mini-fightback but Kim shut the door finally. "COME ON!" I screamed in delight. My friends must be wondering if I've gone crazy, making such a huge din in the early hours of the morning.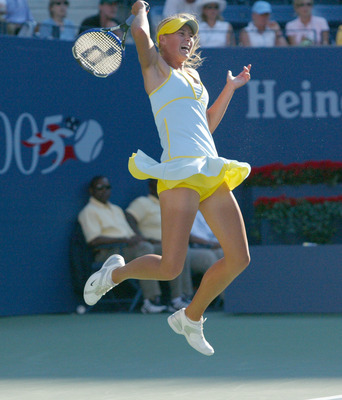 No such drama in the finals as Kim strolled to her first Grand Slam win. I still remember her reaction when she hit that unreturnable serve on her match point. I had tears in my eyes. It's probably not healthy for someone to be so involved emotionally in tennis but now I know, tennis isn't the same without Kim for me.
2006 went as a forgettable year but near the end of that year, Kim announced that she is going to Hong Kong to play an exhibition tournament in January 2007. HONG KONG! That's like the nearest place to Singapore that Kim would ever be! I cleared my savings, booked the air tickets and bought the tickets to the event to get the chance to see Kim live. (Well, I have to thank my family as they also took the chance to tour Hong Kong while I'm watching the tournament.)
I will never forget the moment when I first saw Kim walk into the stadium. She looked slimmer and still carried that warm smile on her face. Amidst the overwhelming cheer when her name was announced, she waved shyly as she entered the court for the opening ceremony. Kim was slated to play China's Zheng Jie in her first match after the ceremony and I anticipated eagerly.
"Kim's looking my direction!"
Just during the warm-up, you can see that the speed the players hit is much faster than what is perceived on television. Kim hit a practice serve which hit the hollow backwall of the court, and it sent booming vibrations across the stadium. Zheng couldn't handle Kim's game and although she fought gallantly, she lost. It was a marvel to watch Kim playing live. Her speed and power were even more impressive in person. After the match, Kim signed all the requests for autographs patiently (including mine!) and thanked anyone who congratulated her. What a lovely lady. Next mission: to get a photo with Kim!
"End of the match"