The 3rd seed topples! What a shock! Here are all the results:
Singles - Third Round
(1) Victoria Azarenka (BLR) d. Aleksandra Wozniak (CAN) 64 64
(26) Svetlana Kuznetsova (RUS) d. (3) Agnieszka Radwanska (POL) 61 62
(6) Samantha Stosur (AUS) d. (27) Nadia Petrova (RUS) 63 63
(10) Angelique Kerber (GER) d. (18) Flavia Pennetta (ITA) 46 63 62
(21) Sara Errani (ITA) d. (13) Ana Ivanovic (SRB) 16 75 63
(15) Dominika Cibulkova (SVK) d. María José Martínez Sánchez (ESP) 62 61
Petra Martic (CRO) d. (29) Anabel Medina Garrigues (ESP) 62 61
Sloane Stephens (USA) d. Mathilde Johansson (FRA) 63 62
Singles - Second Round
(2) Maria Sharapova (RUS) d. Ayumi Morita (JPN) 61 61
Shockers:
(26) Svetlana Kuznetsova (RUS) d. (3) Agnieszka Radwanska (POL) 61 62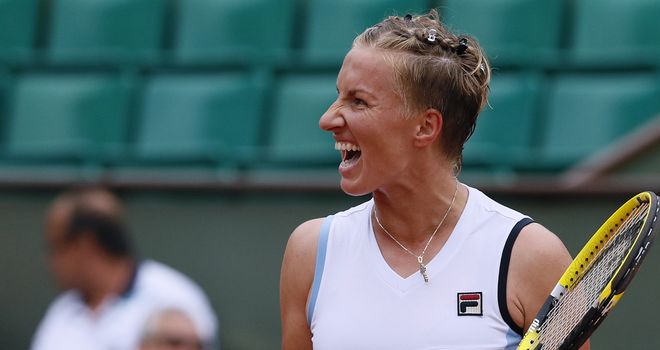 After watching this match, I had Rihanna's song "Where Have You Been"stuck to my head. Seriously Sveta, that was some insane hitting. Where have you been for the past 2 years? Strong serves, heavy forehands, spectacular backhands, quick court coverage. You name it, she did it. Svetlana took whatever junk that Radwanska threw at her and turned it into gold. It was that good. It seemed that Sveta knew and anticipated Agnieszka's every move, rendering all of her craft useless. Amazing tennis. Sveta did not tighten up when leading (well, maybe at 6-1 3-1 up when she got broken) which is fantastic to see. Agnieszka will be praying that one more player is drawn away from her for the rest of the year after Victoria Azarenka.
(21) Sara Errani (ITA) d. (13) Ana Ivanovic (SRB) 16 75 63
Ana Ana Ana... How can you play so well and so bad at the same time? What an unpredictable player. Ana Ivanovic was untouchable for the first set until Sara Errani made her think more. She then tightened up and everything else is history. Sara kept to her simple game plan, which is serve to Ana's backhand, hit to Ana's backhand. And given Ivanovic's dire backhand stroke, it worked. Pity for Ana as she is just a win away from the top 10. Well, she still has the grass season to make it, but just a squandered chance here. Mightily disappointing. Sara continues her amazing form this year and her march toward top 20 continues. How far will she rise?
Petra Martic
(CRO) d. (29)
Anabel Medina Garrigues
(ESP) 62 61
And the Croatian follows up her upset over Marion Bartoli with another upset. I'm not really surprised this time though as Anabel is a lower seed and is rumoured to be injured. Well done by Petra who was expected by a lot of people to breakthrough 2 years ago. She is beginning to fulfil her promise. And it's refreshing to see someone who's not intent on only just blasting the ball or just plain retrieving. This girl can play smart tennis and it's a joy to watch. Congrats Petra!