Supermom. This was the word used to describe Kim Clijsters after her amazing win in US Open 2009 shortly after her comeback. How many women have succeeded in sports after giving birth to a child? And in a sport as physical and demanding as tennis, nobody has managed to do what Kim did. (Except Evonne Goolagong obviously) Kim Clijsters is what everyone should aspire to be: kind, humble, friendly and most of all, ruthless on court.
I first saw Kim playing when she reached her first Grand Slam final in Roland Garros 2001. She was facing a much more accomplished opponent in Jennifer Capriati. And actually, I was cheering for the American back then. But Kim's gutsy performance made me take notice of her and I've been following her ever since. Finally, she became my favourite player when she toppled the seemingly unstoppable Serena Williams in the Year-End Championships of 2002.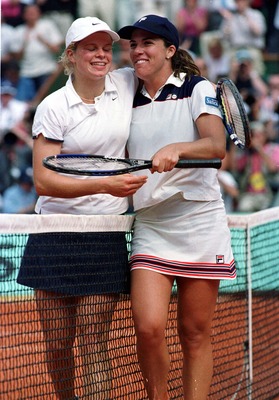 Being a fan of Kim can be frustrating as you know she is capable of accomplishing so much more. But her suspect mental strength often cost her to be the bridesmaid most of the time. Can you imagine my frustrations from 2003 to 2004 where she reached all those finals, only to be wiped out by Justine Henin easily? She was completely AWOL in the 2003 Roland Garros final, outplayed by a half-tank Justine Henin in 2003 US Open final and shamefully robbed of a crucial point in 2004 Australian Open final. All these disappointments almost made me think that she will never win a Slam and will forever be known as the slamless number 1.
After taking an injury break in 2004, I wondered if Kim would ever return to her form that brought her so close to all those Grand Slam titles. This injury puts even more doubts on her ability to win Slams. However, she returned to tour with a vengeance and won the rare Indian Wells-Miami double in 2005. Her wins over the top 10 players were truly impressive and it gave me reassurance that Kim is back and better. 2005 was also when she announced that she would be retiring in 2 years time, so I made it a point to at least see Kim live in action once before she retired.
Rampaging through the 2005 American hardcourt season, Kim arrived in New York as a hot favourite. I was just starting my university course back then and I remember skipping lectures just to watch her matches on television. Also, I left my VCR on just to record her matches in the early morning (blame it on the brutal time difference). The pivotal match of the tournament was in the quarter-finals against Venus Williams. Unable to watch as I had a tutorial class going on in school that time, I pleaded with my friend to update me on the score. Receiving those messages was more important to me than what my tutor was babbling about. Slowly, I dreaded receiving those messages. "Silly error from Kim! Broken!", "Kim lost the first set!" and "Kim got broken again in second set. Bye Kim."
No longer interested in doing anything, I sulked. "Maybe it's better that I missed this match on TV." I thought to myself. But slowly, new updates lifted me up. "Kim's a fighter! Broke back!", "Venus choking!", "Venus trying to be too cute with a volley! Kim pumped up!" and "One set all!" If anyone saw me that day would be wondering why I am wearing a silly smile and doing silent fist pumps. Suddenly, the last of the updates came fast and furious. "Venus looks tired. Kim broke.", "Venus giving up." and "Kim won! 4-6 7-5 6-1" I began to think maybe this was Kim's year.