(21) Sara Errani def. (6) Samantha Stosur 7-5 1-6 6-3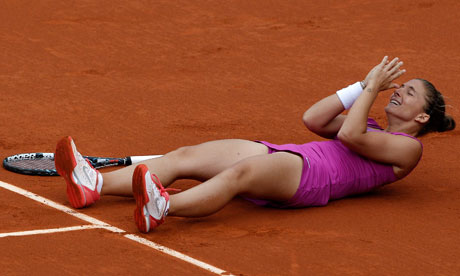 Oh Samantha... What a wasted chance. You have no one else to blame except yourself. Having won al previous 5 meetings and an obvious advantage with your serve, you managed to mess it all up. I have said before, Samantha's forehand can either be her friend or her foe. When it's on, it hits winners all over the court. But when it's off, it's just fugly. With the number of mishits, you would have thought that you were watching an amateur play. Sara did what she does best, blocking all the shots and waiting for Samantha to miss. And boy did she miss. Well, congratulations for Errani who reaches her first Grand Slam final. She thoroughly deserves it.
(2) Maria Sharapova def. (4) Petra Kvitova 6-3 6-3
As expected, Maria cruises to the finals with a straight sets win over Petra Kvitova. It seemed to be a tight battle at first with close games and Kvitova had chances to break Maria's serve. However, Maria served her way out of trouble and exposed Kvitova's jittery movement on clay. Petra will never be a natural clay-courter with her movement unless she learns how to slide. Just look at Maria. She didn't slide when she started out on clay but she's moving elegantly now on the red dirt. Well, not elegantly, but efficiently. Let's see if Petra will incorporate that into her game, she's only 22 after all. Maria must be delighted with this accomplishment as she reaches the world number 1 again with this win. Also, she will have the chance to complete a career slam this Saturday against an opponent who she shouldn't have any trouble with. Congratulations to Sharapova. I expect to see her hoisting the trophy on Saturday.